Status: 03.05.2022 10:10 a.m.
From stew to gratin: The onion vegetable, also called leek, can be pan-fried, steamed or eaten raw. How to cut leeks, how to prepare them? tips and recipes.
Leek is one of the few regional vegetables available fresh all year round. Depending on the season, these are summer, fall or winter leeks. Summer leeks usually have a slightly thinner and much longer white stem and light green leaves. Autumn or winter leeks have a stronger taste, the leaves are dark green, the stem is thicker.
Buy leeks and prepare them correctly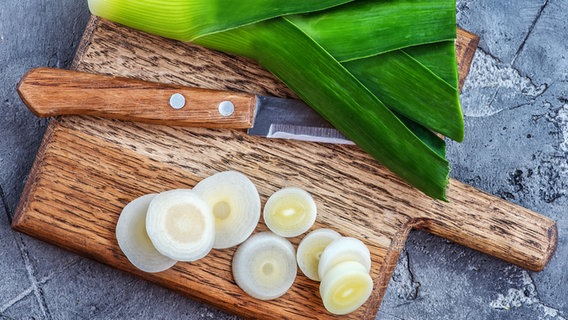 Inexpensive, regional and available fresh all year round – leeks are a very versatile vegetable.
When purchased, the stems should look crisp and fresh, with no cracks or browning, the root should be firm. If the leaves are already falling from the stem, this is a sign of a lack of freshness. Leeks can be stored in the refrigerator for about one to two weeks, but the vitamin content decreases. Do not place vegetables next to foods such as butter in the refrigerator, as the onion flavor will easily carry over.
Always wash leeks thoroughly
Always clean and wash leeks thoroughly before processing them, as there can be a lot of soil between the different layers of leaves. To do this, first cut off the root and the outer withered leaves as well as the leaf tips. Then it is best to cut the stalk lengthwise and rinse the entire stalk thoroughly under running water. Lightly fan the individual layers to remove any soil residue. Then cut into slices or thin strips as desired. Prepared in this way, leeks can also be frozen well. Blanch briefly in boiling salted water then drain well. Frozen in the freezer bag, it will keep for about a year.
Fry, steam and simmer the leek
The white and green components taste different and therefore can be processed separately. The powerful aroma of the dark green leaf sections is ideal for vegetable soups. The white parts, more tender, are a good accompaniment. Briefly steam the vegetables before further processing, then you can roast or simmer them.
As an accompaniment, leek goes very well with fish or hearty dishes with meat, such as meatballs or roasts. A hearty stew is quickly prepared with potatoes, minced meat and cheese. Leek can also be perfectly prepared with spaetzle or Schupfnudeln and possibly other vegetables as a gratin dish.
Leek for gratin, quiche, pizza and tarte flambée
Leeks are also a tasty ingredient in casseroles or quiches. A classic is the leek cake: make a shortcrust pastry and line a springform pan. Briefly sauté the chopped leek and place on top. Whisk together the milk, eggs, cream and a little grated cheese, season and pour over the leek mixture, then bake in the oven. Vegetables are also good as a topping for pizza or tarte flambée. Pre-cooking is not necessary, just place the slices of chopped leek on the bottom of the pizza or tarte flambée.
Prepare the raw leek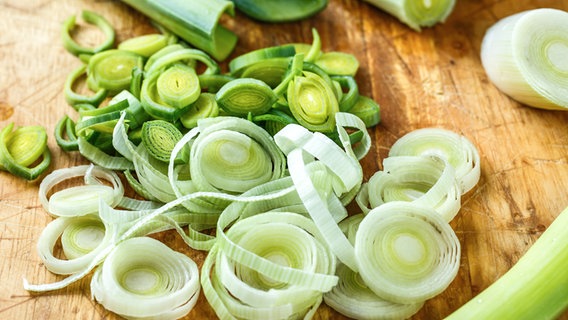 Leek also tastes raw. It is especially delicious in combination with sweet fruits.
Finely chopped summer leeks are also suitable as raw vegetables for salads or dips due to their mild, slightly spicy taste. It is delicious, for example, combined with beets, apples and nuts. Finely chopped pineapple, corn, cheese and cooked ham also go very well together.
Leeks are healthy
Although leeks belong to the bulb family, unlike onions, they practically do not cause flatulence. It is also suitable for people with sensitive stomachs. At the same time, it is rich in vitamins, minerals and fiber. Its high content of inulin, a soluble fibre, has a positive effect on the intestinal flora.