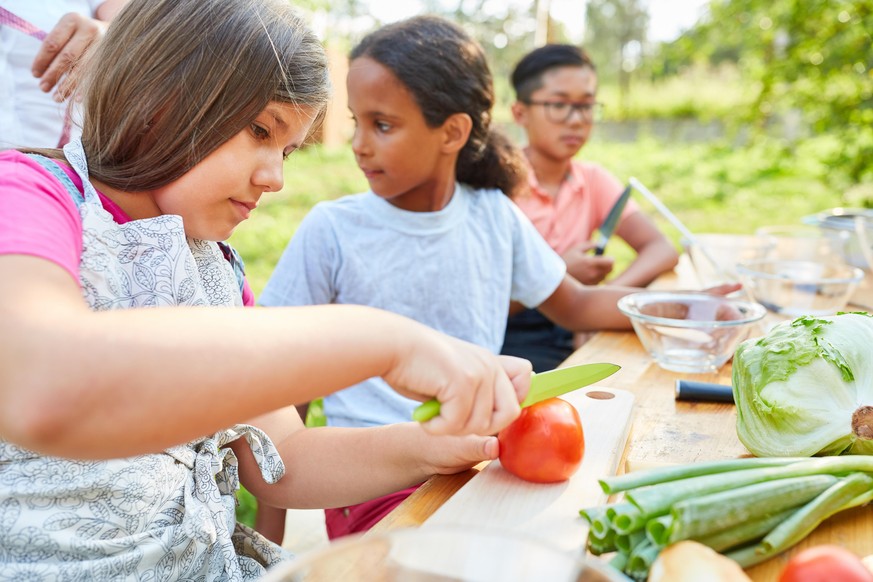 Children learn to eat healthy from an early age during the cooking class (symbolic image).Image: Zoonar.com/Robert Kneschke / Robert Kneschke
Watson lives there
Bowls clink, hot frying oil hisses in the pan on the stove, children talk wildly at once – a knife goes through an onion: Zack! "Thor, what can I do?" "Thore, what's the best way to chop the onion?" "Wait, I'll show you."
The scent of marjoram, fried tofu and fresh yeast dough wafts through the educational kitchen of the "Kunterbunt" student club in the basement of the "primary school under the trees" north of Berlin, in the district of Pankow. The fifth and sixth graders of the student club prepare their lunch. The menu of the day is: "The classic with a difference, meatless burger". Above: "Koch AG with Thore. The creative, plant-based culinary experience continues!"
"We're making burgers today. Do you know what's in a burger bun?"
Thore Hildebrandt quizzes his culinary students on burger ingredients
Zero-waste chef Thore Hildebrandt comes for the seventh time to the Kunterbunt school club in Berlin to teach children in a playful way to cook and at the same time to act sustainably. Reconciling these two aspects with children is often not easy: "Student attention spans are generally not very long"said Thor.
In addition to courses for students, the Berliner also gives workshops for companies or private groups, such as for birthday parties or Christmas parties, as well as online courses. He is also involved in cooking video productions and live cooking campaigns at trade shows.
Thore Hildebrandt at an event on sustainable cooking.Image: private / ana torres
"We're making burgers today. Do you know what's in a burger bun?", asks Thore with a broad smile. "Water, flour…", begin to enumerate the students. Something is called into the room from all sides.
The 45-year-old stands outside today's cooking class in a green apron, faded blue jeans, black trainers and a white t-shirt with the company logo. "Thore Hildebrandt" is written on his chest, above it is a plaque with circular arrows on it, meant to symbolize the recycling process, and a fork on the left and a knife on the right.
Thore is in tune with the times with sustainable cooking events
Thore organizes almost all of its culinary events on a vegan basis and also follows the rules of zero waste cooking. When baking, he uses almost all supposed food scraps, such as potato peelings or broccoli stalks, and shows how ice cream can be made from overripe bananas or how hard bread can still be made. be transformed.
It is in tune with the times, as veganism and vegetarianism have grown in popularity in recent years – for various reasons ranging from ethics to health – or simply because of the environment.
"Uh! My hands are sticky!
A female student is shocked by the paste on her hands
Although the trained bank clerk has no children himself, he enjoys taking care of students in everyday working life. A girl with a burgundy cap and black eyes peeking out from between the headgear and mask exclaims in disgust, "Hey! My hands are sticky!" The fifth-grade student uses her index finger and thumb to pull yeast dough for hamburger buns, colored with spinach powder, with her left hand. "I asked you if you wanted a kneading blade, so that won't happen with that"said Thore, half joking, half berating his proteges.
In order to be allowed to cook with the children, Thore had to present an extended police certificate. After his professional career in a major German bank and two major international banks, he made his passion for sustainable cuisine his profession in 2019. In addition to his IHK training as a specialist in organic gourmet nutrition, the zero waste chef has developed these specific cooking classes for children from 6 to 16 years old.
"Thore, you're awesome. I'm glad I joined the student club and took your cooking lessons."
A student compliments Thore
The six girls who want to make the meatless burgers with Thore are spread across two large wooden tables in the school kitchen. Everyone has a task: one student cuts the tofu into cubes, another makes sure the cubes are the same size, the girl in the dark red cap grabs the grater for the carrots. As soon as someone is inactive, there is something new to do. There is no dullness in the teaching kitchen. Thore spends most of his time answering countless questions from the children. Someone keeps calling his name out loud.
Student club: "The cooking event with Thore fits perfectly into our concept"
The primary school under the trees has been a climate school since 2013 and addresses sustainability with the children every day at school. Martin Biermann, one of the main educators of the student club, says:
"In one project, for example, our pupils had access to the school heating and were able to decide which rooms needed additional heating and where it was superfluous. Thematically, the kitchen event with Thore fits so perfectly to our concept."
The student in the dark red cap suddenly looks up, irritated, from her kitchen area with the grater: "What was that?" A loud beep sounds. It's the oven: The burger buns are ready. The girls marvel at the fresh buns in the oven, a warm comforting smell of yeast wafts through the room. "I'm a little proud of us"said the red-capped fifth-grade student, balancing the glass baking dish with the greenish-stained buns toward the table in black oven mitts.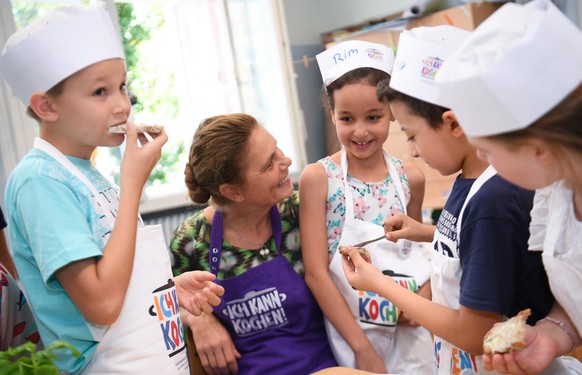 Children at a cooking class (symbol image).Picture: dpa / Arne Dedert
Thore has had a passion for cooking since he was a child: "Little at six years old, I cooked spaghetti for my parents. But in cold water, without salt, cooked far too long and to top it off with ketchup." He was praised by his parents anyway, they ate him too.
In the meantime, he seems to be doing better with his dishes, or so the beaming faces of the children in the school kitchen suggest.
"Thore, you're awesome. I'm glad I joined the student club and took your cooking lessons."exclaims a radiant girl under her black mask.
Children should also be allowed to make mistakes
"Point the knife down when you run!", exclaims again and again the zero waste leader. Two of his cooking students continue to run from the table to the door with their knife and cutting board to throw the onion skins and other leftovers in the trash. "It is especially important that children show them how to use knives correctly.how to keep the place clean, not messing around, concentrating and being careful with the pan and cooking grease," says Thore.
When working with children, Thore finds it important to ask lots of questions. In this way, the zero-waste chef discovers what his cooking students already know and builds his course on this knowledge. "It's important to cook for yourself when you were a child and to try everything, but also to have the right to make mistakes", said Thor. He wants to arouse children's curiosity about the new and the unknown, and then convince them with their taste.
" Set the table ! We are still missing plates!, Thore rounds up his cooking students. Suddenly, it's quiet in the kitchen of the school north of Berlin. The girls devoutly top their homemade burger buns with tomatoes, lettuce, fried tofu and burger patties made with soy and bulgur granules.
For the first time that day, their faces are revealed under the masks, and this time it's clear: they all seem satisfied.
Nor does the climate scare stop with party members. In an interview, "Fridays for Future" and Juso activist Tim Vollert reveals how difficult it is to hide one's own fears for politics and to turn the demands of climate protectionists into concrete political action.
The "Fridays for Future" movement irrevocably put the issue of the climate crisis and climate protection on the political agenda in 2018 through mass demonstrations – where it is still on the agenda today and must continue to be. At least that's what Tim Vollert thinks.