What to do with art that conveys racist clichés? Leave it hanging or take it to the depot? The Frankfurt Historical Museum has found a middle way – in the form of a new themed tour.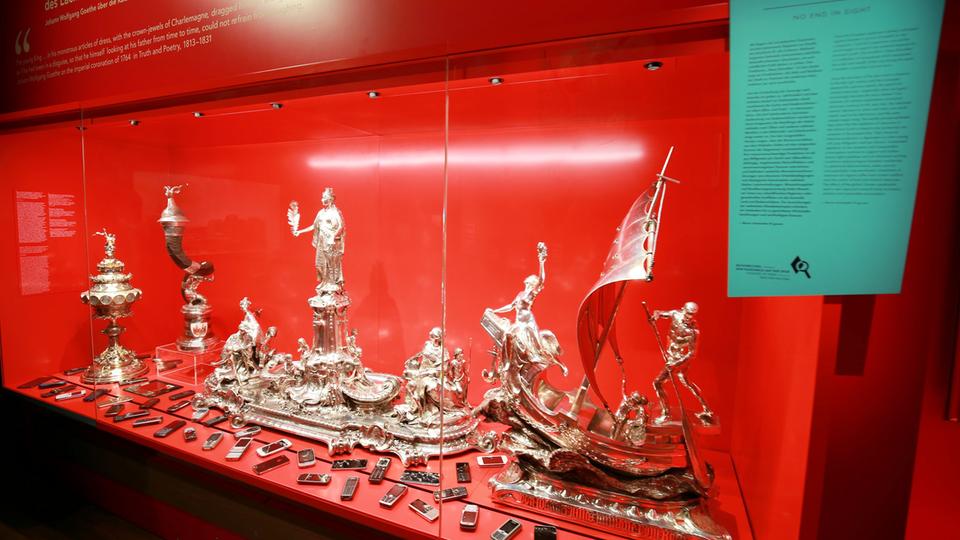 The Frankfurt Council Money is probably one of the most magnificent objects in the Frankfurt Historical Museum. The richly decorated silver sculptures, some of which are about a meter high, were created between 1899 and 1912 and were intended to demonstrate the economically prosperous city's self-confidence in the town hall. A "black slave" can also be seen holding a drinking horn – a design created entirely in the spirit of colonialist enthusiasm.
When visitors pass the council's red silver display case these days, their eyes are likely to fall on other exhibits. They apparently don't belong here: about three dozen cell phones of various models lie at the foot of the council's money.
New perspective on traditional stories
Mobile phones are part of the new thematic tour "Blickwechsel – on the trail of racism", with which the Historical Museum wants to work through colonial history and its effects to this day. For the tour, mostly non-white artists, but also activists, critically commented on 18 exhibits – partly with texts, partly with audios, partly by adding objects. The objective: a new look at the stories transmitted in the museum.
Museum staff member Marie N'gouan is the inspiration for adding money to the board. "Looking at cell phones is supposed to be irritating," she says. Mobile phones are meant to draw attention to the fact that the resources of the countries of the South are still being exploited. In this case, it is money, which is turned into jewelry and cell phones.
White audience amused with "ethnic shows".
Another commented object is an advertising poster for a so-called "Völkerschau" in Frankfurt in 1896. For an entrance fee of 20 pfennigs, Frankfurters could see 22 "beauties" and four men from Polynesian Samoa in the Zoological Garden. Such shows were meant to amuse white audiences and demonstrate supposed white supremacy in order to justify colonialism.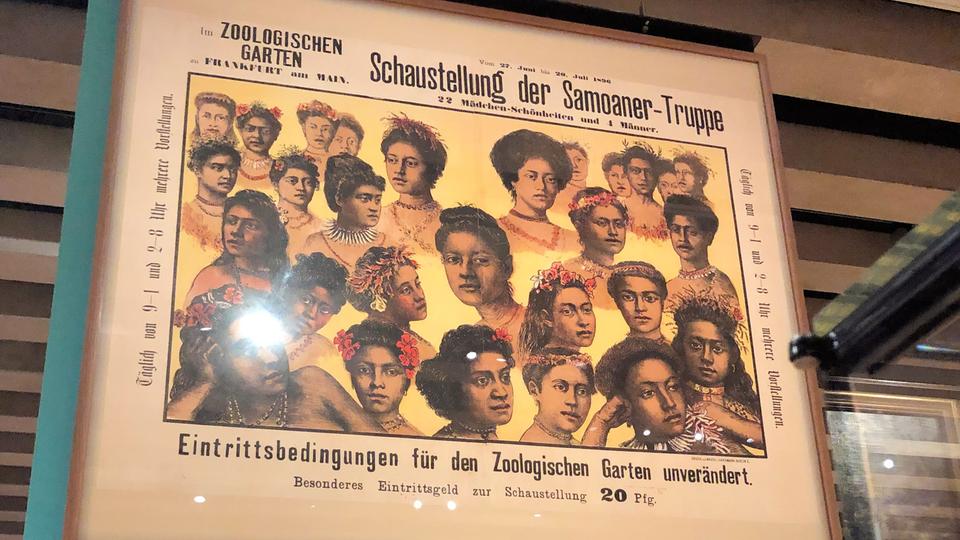 Some people had been abducted, others had been recruited. In Frankfurt, they lived in miserable conditions. At the zoo, they then had to reenact what their life in the village was supposed to be like – racist stereotypes were reinforced among onlookers.
"Images and concepts in my head to this day"
"To this day, we still have those images and concepts from the time and apply them to people," says curator Puneh Henning. In an audio contribution, activist and co-curator Aanchel Kapoor flips these racial attributions and applies them to white people, for example using animal sounds.
While developing the project, the team also considered whether they should continue to show such posters, says Henning. In fact, the team exchanged a poster depicting the violence. But the subject must not completely disappear: "We thought that this part of German history would no longer be represented in the museum", explains Henning. "But we think it's important that people talk about the time of the 'Völkerschau' and thus create an awareness that certain images linger in people's minds."
The debate is not over yet
It is always difficult to decide whether to continue showing such objects: "Of course, such an image also represents or reproduces racism, exoticism and sexism. But if it is commented on, you can at least attract the watch out for it," says Henning. However, the debate on how museums should deal with similar objects is not yet closed.
Further information
about the project
"Blickwechsel – on the trail of racism" focuses on colonial history and its continued impact to this day. Artist and activist commentators were won by tender. "It was important to us that as many voices as possible had their say, because there is a diversity of marginalized people," says Puneh Henning. "It's not just a question of skin color, it's also a question of origin, religion, gender."
Other exhibits with commentary include paintings showing black people, a postcard, historical guns and coins, and the children's book "Der Struwwelpeter" from 1844. The objects, which are spread across two museum buildings , are recognizable by a turquoise angle and underlined explanatory texts. in turquoise. A tour booklet available at the entrance provides orientation and a glossary of political terms and self-nomination. More information on the website of museum.
An online glossary on inclusive and discrimination-sensitive language is also available on the website of the museum Or on amnesty.ch.
End of additional information
Further information
End of additional information