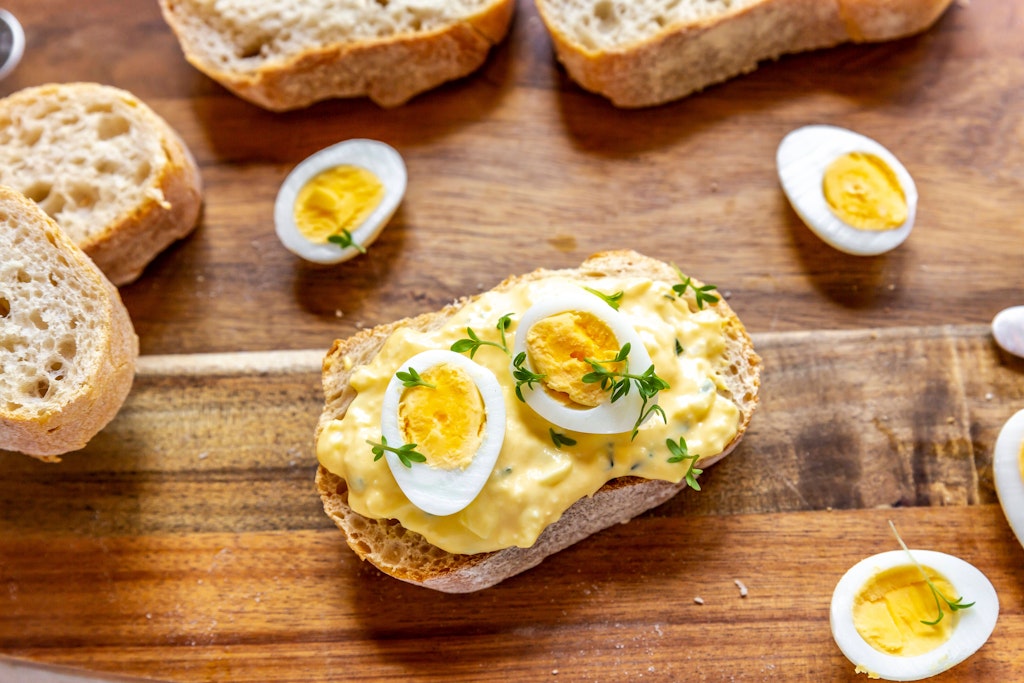 Probably everyone knows this situation: on the weekend, on vacation or simply because there is a noisy breakfast – but unfortunately the eyes are bigger than the mouth. At the end, there are hard-boiled eggs left. What to do? It's very simple: create something beautiful with leftovers! Because: Why are there so many egg salad recipes? It doesn't even have to be anything special. This delicious egg salad from the GDR cookbook always tastes great… and its success is guaranteed!
Delicious Recipe: How to Make the Best and Easiest Egg Salad
Many people love it, but how do you properly prepare this kitchen classic, preferably as it was in GDR times? As with all salad mixes, the same applies here: anything that tastes good is allowed. There are many variations that make egg salad simply delicious, but this simple version with mayonnaise, pickles, and fresh chives is simply delicious.
Read also: Awesome recipe for grilling: Do you know the 7 cup salad? There are so many delicious things about this recipe – And it's so quick to make >>
Do not hesitate to vary the spices! Garlic, paprika powder and fresh coarse pepper also give the salad a boost. Here is the delicious recipe.
Ingredients for a delicious egg salad
You will need: 10 eggs, 3 pickles, half a bunch of chives, 4 tablespoons of mayonnaise, salt and pepper
Here's how it works: Bring water to a boil in a saucepan and boil the eggs for about eight minutes so that they are firm and the yolks don't run when you cut them. This is important because wobbly or even runny egg yolks have absolutely no place in an egg salad. If you want to know more about egg cooking times, you will find important information here.
Now Read: Crazy Pasta Recipe Like Toast Hawaii: Spaghetti Hawaii Is The Perfect Evening Meal >>
When the eggs are cooked, remove the eggs from the boiling water, place them in a bowl of cold water to cool them and then peel them.
Cut the peeled eggs into slices with an egg slicer, then divide them again to create smaller pieces. Also drain the gherkins and cut them into thin cubes. Important: Be sure to save some cucumber water, it then goes into the dressing and gives it even more flavor.
Also read: Incredible BBQ Recipe: Have you ever made a salad with bread chips? It's the PERFECT side dish – and so easy… >>
Then wash the chives, dry them and cut them into thin rinds. Then the eggs arrive in a bowl, are mixed with pieces of cucumber, chives and mayonnaise. Add a little cucumber water so that the sauce becomes more liquid and everything mixes better. Mix well, season with salt, pepper and spices to taste and place in the fridge for at least an hour to marinate.