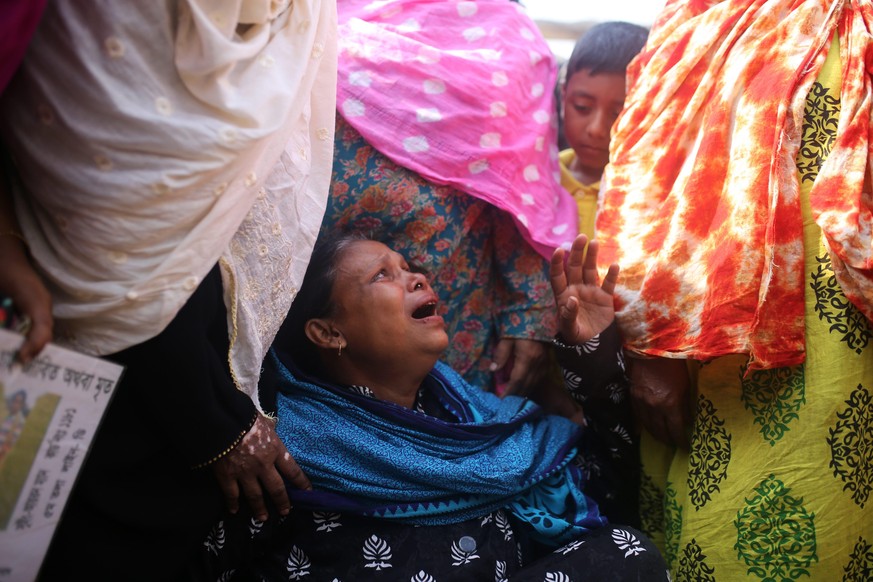 When the Rana Plaza building collapsed in 2013, over 1,100 people died and over 2,400 were injured.Image: NurPhoto/Rehman Asad
interview
"We wanted to get out, but they wouldn't let us. Our manager said we were all going to die one day. If you die here, too bad. But you can't get out of here. Get to work." Jhorna said to the camera of an ICCO/Red Orange TV crew. Jhorna and her daughter worked at the Rana Plaza garment factory in Bangladesh which collapsed on April 24, 2013. Global outrage was global. "I have to feed my family. But I don't know what to do," says the woman, lying on a mattress, as Jhorna and her daughter broke their backs in the disaster. The two are among more than 2,400 people injured that day. More than 1100 died. The country's worst industrial disaster happened because human rights cost more than cheap fashion.
A five euro t-shirt, 20 pants: the price of cheap and fast fashion is not paid by consumers, but by textile workers. The problem has been known for years and yet almost nothing changes. H&M, Zara, Primark and Shein, but also high-priced brands continue to produce their clothes in low-wage countries – to the detriment of people, animals and the environment.
As a consumer, how can you know exactly if companies are producing under conditions that violate human rights and what can you do about it? Watson told Fashion Revolution's Carina Bischof about it. Founded in the aftermath of the Rana Plaza disaster, Fashion Revolution is the world's largest fashion activism movement, mobilizing citizens, brands and decision makers through research, education and advocacy.
Watson: How do you recognize fast fashion?
Carina Bischof: The faster a brand sets up a collection, the "faster" it is in the label. Due to the speed, the production conditions, the quality and therefore the longevity of the garments suffer.
What is Fast Fashion?
Fast fashion is the textile equivalent of fast food. Fashion that is fast, cheap and accessible to everyone, everywhere has led to a change in consumer behavior. Instead of being sewn, patched or recycled, clothes are increasingly thrown away because they weren't expensive anyway. Additionally, so-called microtrends, i.e., fast fashions, suggest that new clothes are needed every month, if not every week. Major companies such as Zara and H&M, for example, bring new clothes to the online store every week, and the super-fast fashion group Shein even brings nearly 6,000 every day.
Why is fast fashion problematic?
On the one hand, it is extremely harmful to the environment and, on the other hand, the people who have to produce the clothes under dangerous working conditions suffer from it. When clothes are made so cheaply, other parties pay the price. In the end, the life of these clothes is also short and the clothes end up in landfills.
What has changed since Rana Plaza?
It's a pity that it always takes these disasters for something to change. Thanks to the Rana Plaza and the Fashion Revolution movement, some basic understanding of the opaque system of fashion has developed. Consumers are becoming more educated and have also recognized that there are ways to change something through one's own consumer behavior and especially by asking questions.
So do we need to rethink the consumer more?
Yes and no, this alone is still not enough and, in particular, the responsibility should not rest solely on the shoulders of the consumer. Companies must finally be held accountable and politicians must also take action to achieve fundamental improvements.
Overconsumption as an environmentally harmful trend
A German buys an average of 60 items of clothing per year, only about half of which are worn regularly. In the best case, the other half is recycled, in the worst case, it ends up in the trash: In Europe, 5.8 million tonnes of clothing are thrown away every year. 75% of this ends up in landfills or is incinerated.
green peace
Is the textile industry a modern form of slavery?
If I work in life-threatening and inhumane conditions, just so that at the end of the month I don't even have enough money to feed the family, then in my eyes that's modern slavery. Of course, the shapes are very different and there is a wide range of production facilities, but the controls are just too weak.
what is your goal
With Fashion Revolution we want to highlight the positive sides of the fashion industry and show that fashion can also be made in harmony with nature and people.
Is greenwashing a problem in the fashion industry – and part of the problem?
With greenwashing, products or fashion are sold as particularly durable, although on closer inspection they are not. It's a kind of 'wash green', with targeted marketing to give the consumer the impression that the company is doing something good for the environment, when all it wants to do is increase sales.
What is greenwashing?
Based on the definition of the Oxford Dictionary, greenwashing describes a strategy by which actors seek to create an image of ecological responsibility through the targeted dissemination of misinformation.
Rotten milk
What do you think of the green button?
In principle, we find all political activities such as the green button or the supply chain law initiative very good and worthy of support. The subject is on the political agenda and now it is important to polish the details so that something really changes. The draft EU supply chain law has been available since February this year and would be even stricter and more extensive than the German supply chain law, which came into force in 2023.
Activist and relatives of victims of the Rana Plaza disaster during a protest in 2019.Image: NurPhoto/Sony Ramany
How can everyone act?
The receipt is a kind of ballot paper. With every purchase of an item of clothing, we as consumers vote to which companies we give our money and therefore also our power. This means that we should really care more about the person we trust. In this way, each individual can make a relevant contribution to improve the interwoven fashion industry.
The power of fast fashion
Chinese fast fashion giant Shein recently reached a market value of $100 billion and is therefore worth more than the two biggest fashion groups Zara and H&M combined. Shein releases 6,000 new garments every day, most of which are made from plastic-based materials. The group, which is particularly popular with influencers and on TikTok, has recently drawn negative attention due to its brazen greenwashing methods.
Why not throw your clothes in the collection containers? Isn't a clothing donation as charitable as you think?
Many collection containers are questionable and clothing donations unfortunately do not go to a good cause, but are used to enrich others. We recommend the A-gain guide, which shows how to properly dispose of old, worn-out clothes.
How do you know that a garment was made in inhumane conditions?
Unfortunately, this cannot be seen with the naked eye, but we generally recommend taking a closer look at the label's website. How transparent is information about production conditions and materials, and does the label reveal which factory was used? In addition, labels and standards such as GOTS or Fairtrade provide information on certain production and marketing conditions.
Which labels are trustworthy?
The current range of seals of approval are more than unfriendly to consumers. Companies often invent labels themselves that they print on their products to gain trust. For clothing, the following certifications are reliable: GOTS, C2C, B Corp, Oeko-Tex, Bluesign or the green button.
What if you can't find anything about it?
If you have very specific questions about a material or a country of production and cannot find an answer, it is always worth writing to the company directly. It's easier than ever these days with social media. At Fashion Revolution, we encourage everyone to look at their care labels, then link to the brand and ask directly where the clothes are made using the hashtag #whomademyclothes.
Fairly made clothing is generally more expensive than fast fashion? What advice do you have for those who can't afford it?
Dressing "fairly" also means consuming less, and it costs less or nothing at all. You can often get much better quality than fast fashion for very cheap at clothes swap parties or thrift stores.