Many action fans were excited to see Dolph Lundgren in a major blockbuster movie like Aquaman. Your anticipation for "Aquaman 2" should grow, as Lundgren has an even bigger role here in a DC movie with timely topics.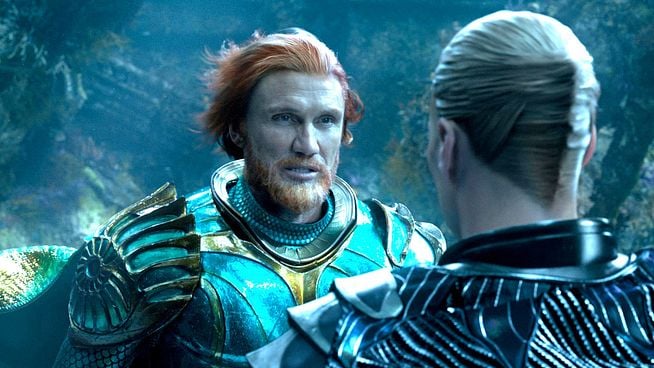 For the home theater launch of his new action flick Castle Falls, which he not only stars in but also directs alongside Scott Adkins, we spoke to Dolph Lundgren and asked him about Aquaman 2. As a fan of the great Swede, we naturally wanted to know if we would see him again as King Nereus in DC's sequel only in a small or perhaps a larger role. Lundgren revealed this to our author Lutz Granert in a zoom interview:
Dolph Lundgren: Like Nicole Kidman, I have a more important role than in the first part. I was in London for two and a half months filming Aquaman 2 and I really liked the script because the story is also about global warming. By the way, James Wan (note: the director of "Aquaman 2") was a big fan of "He-Man" as a child. And King Nereus actually looks like a red-haired "He-Man," which is why he wanted me in the first movie. He was actually a villain, but he gave the character a positive edge with his golden shield.
Aquaman against global warming… and Black Manta
So we can not only expect more Lundgren and more Nicole Kidman, who is of course also welcome after her last outstanding performance in "The Northman", but also an important and current topic. "Aquaman" was already about the destruction of planet Earth by man. Aquaman 2 seems to continue this trend when it comes to global warming.
But there's also a much more tangible adversary for the superhero. Aquaman (Jason Momoa) is known to have dealings with Black Manta (Yahya Abdul-Mateen II), who seeks revenge after his father's death. Many details aren't known yet, but it's rumored to target the hero and Mera's child (Amber Heard, who herself would only have a minor role). Maybe Lundgren's Nereus will come to the rescue here? After all, he is the grandfather of the child who is probably in danger.
"Castle Falls": Action by and with Dolph Lundgren soon in home cinema
During "aquaman 2According to the current schedule, it will not be released in theaters before March 16, 2023.can you Dolph Lundgren see you soon in action.
Since May 26, 2022, there is "castle falls' on DVD and Blu-rayyou can stream it on VoD from May 19, 2022.
» Castle Falls on Amazon*
Scott Adkins plays a former MMA fighter who discovers hidden money while tearing down a hospital in the action thriller. But he only has 90 minutes to clean the coal before it all blows up. And he's not the only one who wants the millions.
Because the prison guard Ericson (Dolph Lundgren) also needs it to allow his daughter, suffering from cancer, to be treated. And of course all kinds of gangsters come into play. A fight for survival and against time begins…
Our full interview with Dolph Lundgren will appear when Castle Falls launches.
*The link to the Amazon offer is a so-called affiliate link. If you make a purchase through this link, we will receive a commission.