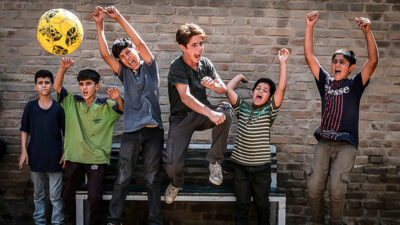 The Sun School Children: Middle Ali (Rouhollah Zamani), 2nd from right Abolfazl (Abolfazl Shirzad) © Majidi Film Production
For children or with children? Never mind. Majid Majidi's film 'Sun Children', about four street boys in Tehran who have to enroll in a school for professional reasons, has enough energy for any audience.
Of Sabine Horst Tuesday, May 3, 2022, 7:00 p.m.|Last updated: Tuesday, May 3, 2022, 2:45 p.m. Reading time: 3 minutes |
Ali digs. Sweat runs down his face, mud clings to his shirt. And it's pretty scary here in the damp, half-buried hallway that leads from the school basement to a graveyard. There must be a treasure there. Ali, twelve years old, wants to save him with his friends. The four boys come from families that cannot take care of themselves, they live more or less on the streets in Tehran and work for a local boss. In the beginning, you saw them stealing car tires from a parking lot and sending them to early recycling. To enter the school, the little gang had to register. Now the boys are indulging in history and geometry. And at the same time, sweating and panting, they continue their treasure hunt.
One can imagine how this scenario would culminate in a feel-good film: the boys, supported by understanding teachers, discover hidden talents and manage to escape from the milieu. But it is not that simple. Iranian director Majid Majidi, known for "Children of Heaven" and "Song of the Sparrows" – films for children or with children? – takes his audience, even the youngest, for his full. In other words, it does not raise false hopes.
empathetic gaze
In terms of plot, the film is rather pessimistic. The Sun's Children's School is a donation-funded community project that is ardently maintained and run by a few weary teachers, who sometimes even work on the electricity in the converted house. The skills revealed by Ali's buddies – gifted footballer, math whiz – are of no use to them, and behind the treasure hunt lies a botched criminal case.

Despite all this, the film does not just have the empathetic view of the details of child or youth life that characterized Majidi's early work. There are also scenes of lawless bliss, such as when the teachers let their several hundred children storm the school, which is closed due to rent arrears. The staging can be fueled by the energy of these children, it plays up genre elements, adventure and "action" motifs with verve and gives the images an earthy and sensual texture.
Iranian movies
Ali (Rouhollah Zamani) is what we would call "street-smart" in the West, "hardened" by surviving in precariousness, resourceful when the going gets tough – when he threatens to be discovered digging with friends when he has to navigate the subway of a friend who has been caught doing street trading.
Many of the Iranian films that have come down to us over the past decade, like the regular Berlinale contributions of Asghar Farhadi or Mohammad Rasoulof, thrive on storylines rich in allusions. They focus on the judiciary and administrative apparatus of the regime and are often located in the middle to upper classes of Tehran.
dedicated to children
Majidi comes from an earlier cinematic tradition – he has helped shape "Iranian neo-realism" since the 90s. And he is not a dissident dependent on evasive maneuvers. Not only are his films screened at festivals, A Sparrow Song and Sun Children were nominated for Oscars as national entries.
Direct repression is certainly present in "Children of the Sun" – in one of the most moving passages of the film, Ali's arrested girlfriend finally has her head shaved – but the emphasis is on the economic situation. : Iran is first and foremost a desperately poor country in the Global South. "Sun Children" is dedicated to the 152 million children who are forced to work around the world, in mines, dumps or sweatshops. (epd/mig)
current serial