Message of 05/03/2022

Two months after the start of the war in Ukraine, the number of Ukrainian refugees admitted to Bad Honnef has risen to over 280 and continues to rise. That is why the association Gesundes Bad Honnef eV provides the freshly printed "Health Guide" in German and Ukrainian free of charge.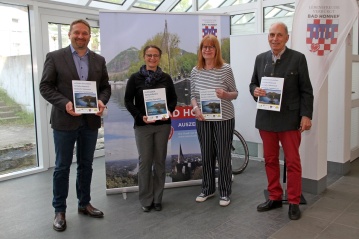 Bad Honef. The guide is made available to refugees, refugee labor volunteers and medical staff in doctors' surgeries, in the hospital and in other health facilities in Bad Honnef.
Be prepared for emergencies
The guide is bilingual, contains many pictograms and drawings and provides information in German and Ukrainian on how to behave in emergency situations such as a heart attack, which vaccines are offered and recommended in Germany, how medications and nutrition are described and for which clinical pictures the respective specialists are responsible are.
With the guide, Ukrainian patients, attendants and medical specialists can describe clinical images, diagnoses and therapies to each other in a simple and understandable way.
The new health guide was created in German and Ukrainian by the association Gesundes Bad Honnef eV under the editorial direction of medical Dr. Hans-Joerg Marsteller. The composition and layout were created by Helga Ebel-Gerlach from the agency creativ – Die Event- und Medienpartner. The Bürgerstiftung Bad Honnef and the city of Bad Honnef jointly covered the printing costs for the first 600 copies.
The Health Guide is more than a translation aid, emphasizes medical Dr. Hans-Jörg Marsteller: "With its range of content and type, the guide is certainly unique in Germany". The idea for the guide only came about three weeks ago, reports the internist, gastroenterologist and family doctor, who knows the language barriers in examining and treating the practice's patients.
Quick implementation and bilingual execution
The guide was translated with the help of two Ukrainian women who speak good German, explains Helga Ebel-Gerlach, thanking her for the quick and efficient cooperation: "There are currently many publications that are offered either in German or in Ukrainian. The problem with these publications is that you have to put them side by side first to understand each other. Because it takes time and can be error-prone, we've created our guide in two languages. We want to complete the guide based on feedback from doctors and, as an association, also offer the short-term individualized guide for use in other municipalities and municipalities".
In the next few days, the new guide will be distributed to local medical practices in Bad Honnef and to volunteers working with Ukrainian refugees, announces Nadine Batzella, head of the department of social affairs and asylum in the city of Bad Honnef: "We are standing with the medical practices in constant contact, because we as a city can provide companions and translators if necessary. The guide supports this work and above all the understanding in an excellent way".
Concise texts, pictograms and a variety of topics ensure uniqueness
Holger Heuser, First Councilor of the City of Bad Honnef, points out that the health guideline is an excellent example that should set a precedent and that it is also valuable as a publication for other municipalities. "The variety of topics, but also the short, concise texts and pictograms help enormously. At the same time, you get easily accessible information about comprehensive preventive care options and responsibilities in the German healthcare system. Reading that provides professional information and at the same time information that is easily understandable and therefore suitable for the German and Ukrainian readership is worth reading". (PM)
---